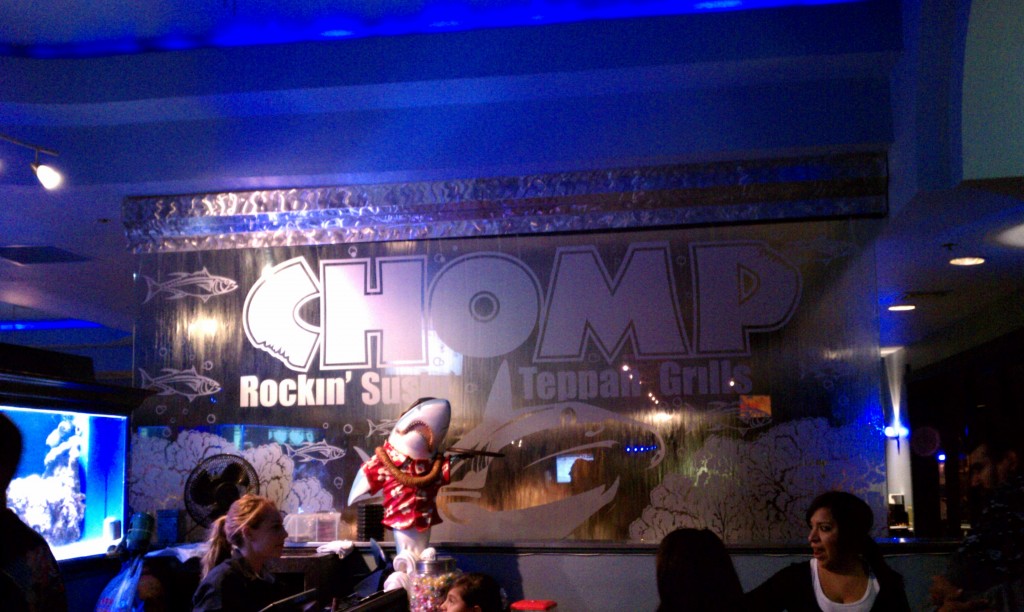 Its a Friday night, and you live in Orange County.  And not the OC where you surf everyday and relax at the beach.  I am talking about Fullerton, downtown Fullerton to be exact.  It's full of drunks and party goers on any given weekend.  And why wouldn't it?  DTF is laced with bars and nightclubs, and more bars all along Harbor Blvd.  It's close Fullerton College and Cal State Fullerton.  Sounds like a perfect recipe for a party town to me.  But I'm not here to talk about partying — that would be a whole other post all together. I am here to talk about a Japanese restaurant — Chomp Sushi and Tepan Grill.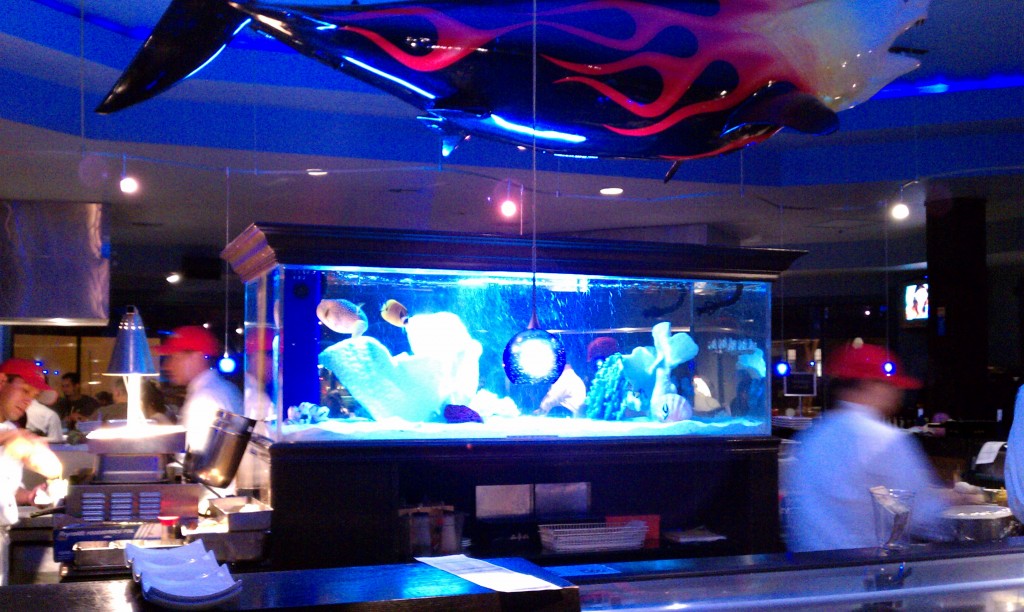 I have been here a number of times, and I always have fun.  The staff is lively and friendly, the crowd is usually young, and the food is great.  Friday and Saturday nights are usually busy — it is downtown Fullerton after all.  They are also busy for Sunday champagne  brunch.  There is a self seating bar (one for sushi, other for drinks), regular tables, and tepanyaki grill stations.  Though I've tried the brunch and the tepan grill, I will be posting only about what is on the regular menu.
Sushi at Chomp sushi is what most of the patrons order.  They offer a wide variety of rolls and dishes.  We ordered the Sexy Mutha roll and the Caliente roll — two of their most famous rolls.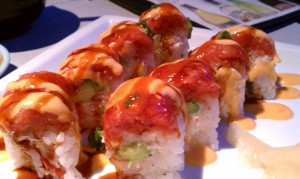 The Sexy Mutha had shrimp tempura, avocado & radish sprouts rolled with rice and soy paper and is topped with spicy tuna, masago, green onion and sesame seeds.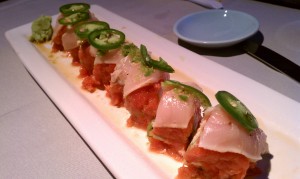 The Caliente has Shrimp tempura, crab & avocado wrapped in spicy tuna, topped with seared albacore, ponzu sauce, jalapeño salsa & sliced jalapeños.  The interesting thing about the Caliente roll is that it has no rice in it.  It is all fish and seafood, which I loved.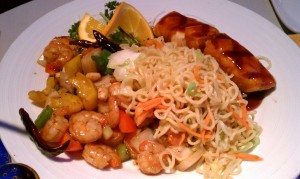 Along with our sushi, we ordered a combo plate.  This included soup, a main meat dish (we added one more for $5), and a side.  The dish consisted of salmon, kung pao shrimp, and chow mein.  This dish was a bit odd to me, as it was a Japanese restaurant taking on a Chinese dish.  Though the salmon was very tasty and flavorful, it did not have the "wow" factor like the sushi did.
Downtown Fullerton is filled with places to eat and drink — It attracts all kinds of people. Have a fun night out with a large group eating tepanyaki style or eat sushi at the bar.  Either way, Chomp Sushi can feed the need for good Japanese cuisine.