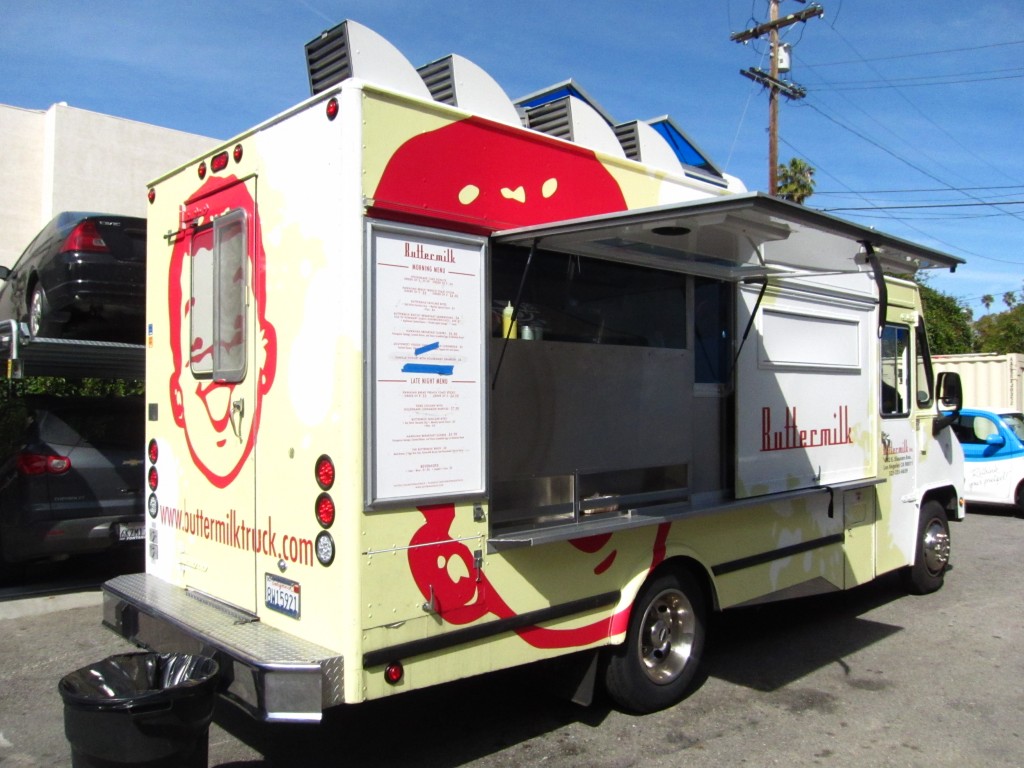 It was a sunny weekend in Los Angeles, and I was driving down Sunset Boulevard.  I was minding my own business, two hands on the wheel, no cellphone in my hand.  Heading west, I saw a food truck in the corner of my peripheral vision.  It was the Buttermilk Truck!  Nobody can mistake that boy's red outlined face smiling at you (what is that all about anyway?)  So I parked at the nearest spot, and headed quickly over.  No line?  Sadly, it wouldn't open until 10 minutes.  But it was okay, because I was first in line!
Siren Studio was holding the South West Regional Barista Competition.  The Buttermilk Truck and the Lake Street Creamery Truck were there to feed hungry competitors and spectators.  It was an event I would never forget — and the food was unforgettable too.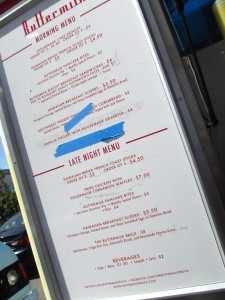 My patience was rewarded as they opened their truck for business.  I walked up and said, "Hi, can I get the Hawaiian breakfast sliders, buttermilk biscuit bacon sandwich with the hash browns, and the red velvet pancakes?"  She replied, "the egg in the biscuit sandwich come runny, is that ok?"  I smiled and said, "yes, that is fine."  I love runny eggs.  Some say it is my weakness.  Either way, I knew this was a good sign.
Everything was very good.  The bacon biscuit sandwich was delicious.  Though I wasn't a fan of the actual biscuit itself, the apple-wood smoked bacon was thick and meaty — each bite was velvety smooth from the runny yolk.  The Hawaiian sliders had Portuguese sausage, grilled onions, and eggs scrambles all between none other than, Hawaiian bread.  This stuff was pretty good.  The spiciness from the sausage played nicely with the sweetness of the bread.  The hash browns were interesting, as it was infused with garlic and rosemary.  The red velvet cakes was a nice little dessert.  It was very chocolaty as it should, and the butter frosting they put on top  was great with it.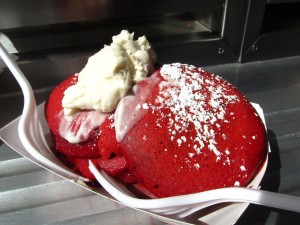 Having the opportunity to try the Buttermilk Truck was a treat.  It might have been because of the spontaneity of the whole thing, or the novelty of it all — either way, the whole experience was unforgettable.  What can be better than eating good food in the perfect weather in the city you love?  I am sorry, but it doesn't get any better.