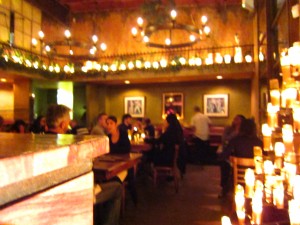 Costa Mesa has a place called The Lab — It is an "anti-mall".  What the heck is an "anti-mall"?  Anyways, they have a dance club, places to shop like Urban Outfitters, and most importantly, places to dine.  Habana for instance, a Cuban restaurant, is situated in The Lab, and is in the center of it all.
Cuban cuisine is something I don't try enough — that is probably because there really aren't many of them around.  At first glance, this restaurant was intimidating.  The inside was dark and almost had a haunted house feel to it.  And when I say dark, I mean you can barely see your food, dark — hence the poor pictures.  I guess it was romantic, in a Gothic kind of way?  They had large tall windows, countless candles, and railings up above.  I couldn't even find the sign of the restaurant inside or outside.  It was just a large open door with a window and plants all over.  For all I know, the restaurant I went to wasn't even Habana.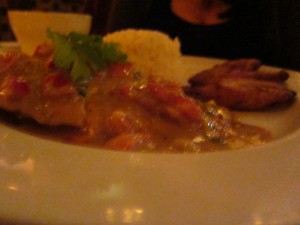 Upon sitting down, we were given some sesame seed topped buns and butter.  My girlfriend ordered the salmon parilla and I had the plantain crusted chicken breast.  Both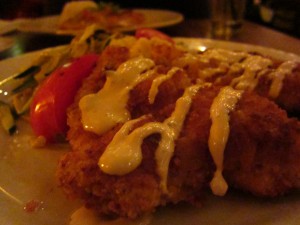 were great, but I have to say, the salmon was amazing. It changed my aspect of what good salmon is. (I usually do mine with a crispy outside and soft inside.)  Theirs was buttery soft inside and out without a crust.  Taking a bite with the rice and mixed in with the tomato green onion cream sauce was silky smooth.  Often times, restaurants overcook their salmon and becomes too dry, but Habana's salmon was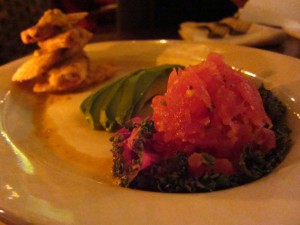 perfect.  We also shared a tuna tartar with plantain chips.  It was a good opener to what was to come.
My experience at Habana was pleasant.  Good food in an interestingly dark restaurant was something memorable.  I want to come back again and try different dishes on the menu.  I would give their patio a try on a warmer night  They had fire pits to stay warm and the lighting seemed really romantic.  From the looks of it, the patio seemed very easy going and relaxing.  Until  then, thanks for the food Habana.