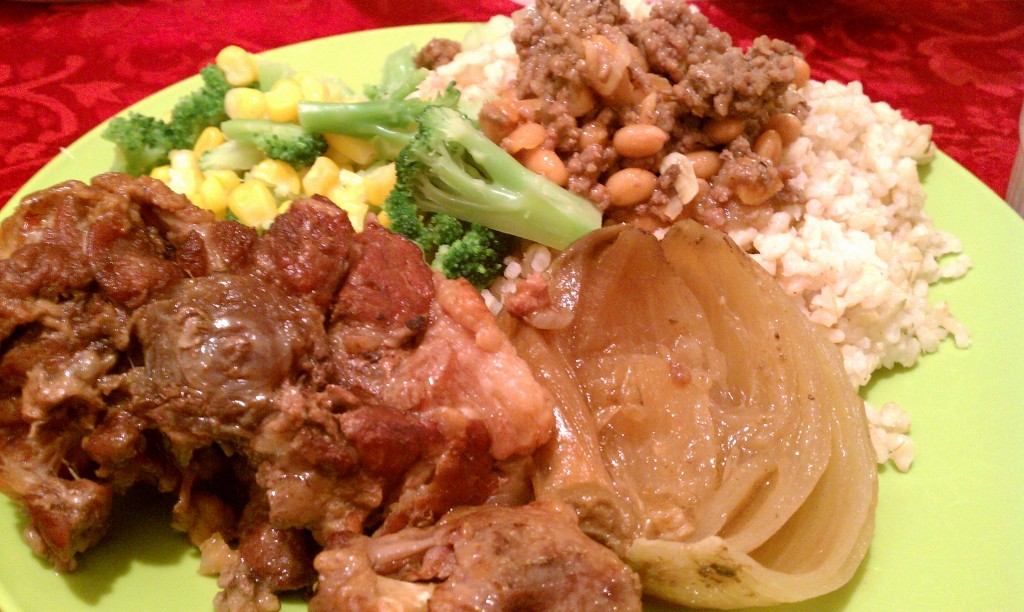 There is nothing better than a nice home cooked meal coming home after a hard days work.  And nothing is easier and more efficient than something cooking away in a Crock-Pot.  Place some seasoned meat into some broth.  Set it on low, and forget about it.  Go to work, go to the gym — do whatever you need to do, because that thing will cook for you all the while you are doing your own thing.  My girlfriend loves her Crock-Pot, and I'm glad that she does because anything she makes in there is delicious.
As I entered the room, the aroma of cooked food was just intoxicating.  Immediately I knew it was dinner time.  The table, all set out with home cooked goodness made my eyes and stomach open for business.  Home made chili and beans, steamed veggies, and brown rice.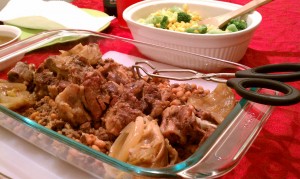 As for what was in the Crock-Pot?  Ox tail with onion.  Only two ingredients mixed in with some secret spices I don't know about, and I was in food heaven.
Anything cooked for hours and hours will always be good.  The meat fell off the bone and was so tender and juicy — it was seasoned perfectly.  Believe it or not, the best part were the onions.  Cutting the onions only in halves was genius.  It was mushy (in a good way) and flavorful — the sweetness of the onions complimented the ox tail very nicely.
The Crock-Pot is an amazing cooking device.  It saves time.  It cooks frozen food nicely.  Most importantly, it comes out delicious!